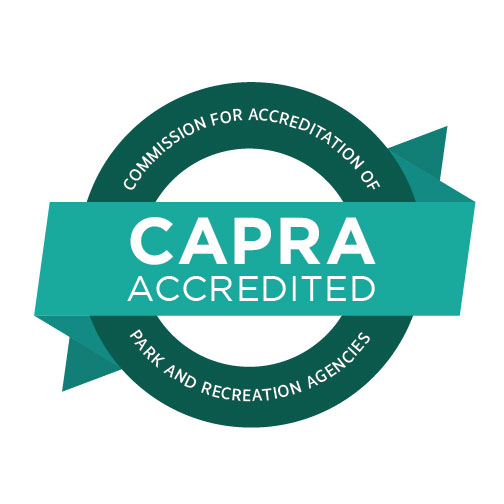 OVERVIEW
The Commission for Accreditation of Park and Recreation Agencies (CAPRA) provides quality assurance and quality improvement of accredited park and recreation agencies throughout the United States by providing agencies with a management system of best practices. CAPRA is the only national accreditation of park and recreation agencies and is a valuable measure of an agency's overall quality of operation, management, and service to the community. Achieving CAPRA accreditation is the best way to demonstrate that the agency and the staff provide communities with the highest level of service. The Woodstock Parks and Recreation Department was first accredited in 2013, and then re-accredited in 2018 under the leadership of former Parks and Recreation Director Preston Pooser, and is scheduled for review again in the spring of 2023.
"It is an honor to lead a great team into the next phase of accreditation and continuous improvement; involving all the staff, city leaders, and the citizens in developing an authentic parks and recreation program that is built on national standards, and designed with the needs and desires of all the citizens of Woodstock in mind." - Michael D. Huffstetler, Parks and Recreation Director.

The City of Woodstock is proud to be 1 of 10 CAPRA agencies in Georgia, 1 of 178 agencies in the United States, and has met 100% of national standards.
BENEFITS OF ACCREDITATION
To the Woodstock community:
Demonstrates that the agency meets national standards of best practice.
Recognizes the community as a great place to live.
It can help secure external financial support and reduce costs for the community.
Holds an agency accountable to the public and ensures responsiveness to meet their needs.

Ensures that all staff are providing quality customer service.
Positive public and political recognition.
Proves to decision makers, stakeholders, and the public that the agency is operating with the best practices of the profession.
Increases credibility and can improve internal and external funding.
Improves overall operations and increases efficiency.
Enhances staff teamwork and pride by engaging all staff in the process.
Creates an environment for regular review of operations, policies and procedures, and promotes continual improvement.
2023 RE-ACCREDITATION PROJECT TEAM

Michael D. Huffstetler, CPRE, Parks and Recreation Director
Heather Gaddis, CPRP, Administrative Coordinator
Marybeth Stockdale, CPRP, Special Events Coordinator
Jamey Snyder, CPRP, Recreation Operations Manager
Jeff Armstrong, Park Operations Coordinator
Barry Martin, Senior Center Coordinator

MORE ABOUT CAPRA